A Comprehensive Guide to Masks and Neck Gaiters
In the midst of a global pandemic, when leaving the house, it is important not to forget your mask or neck gaiter. Whether you're on the way to school, a restaurant, or even to pick up a package, the CDC recommends you wear a mask in order to help prevent the spread of COVID-19, otherwise known as the coronavirus. Listed below are the best masks and neck gaiters to buy, available online or at your local businesses.
M Boutique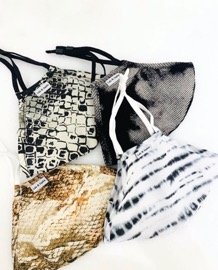 M Boutique has a wide variety of options for masks. They offer a pack of 5 stylish masks for $28, a pack of 3 for $24,and single masks with adjustable ear loops starting at $16. I've worn some of their masks, and speaking from personal experience, they are very comfortable and form-fitting (including built-in flexible metal nose pieces). M Boutique also offers masks with many different cute patterns and designs.
Masks sold individually for $16  Pack of 5 masks sold for $28.
Images source: @mboutique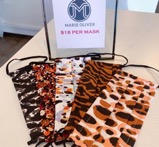 Scout & Molly's
       Scout & Molly's sells their masks in packs of two or individually. Their face masks are made by designers such as CeliaB, Marie Oliver, and Las Bayadas, and each come with unique and creative designs. Prices range from $10 (individual masks) to $40 (pack of two masks). I own a pair of their masks, and I recommend them. They are lightweight, breathable, machine-washable, and they have built-in flexible nose pieces.
Masks made by Marie Oliver, sold for $18 individually.
Kitsch
      These masks are available online or in select stores across the United States. They are sold in packs of 3, at $12 per pack. Packs come in different designs, such as  the Leopard Pack, the Neutral Pack, the Figure Drawing Pack, and more. These masks are made from 3 layers of a soft cotton material. They are washable,  reusable, comfortable, and their one size fits most people.
Images source: kitsch.com
Revolve
Revolve offers 130 different mask options, sold both individually and in packs. Masks differ in price, which ranges from $10 to $90, as well as in pattern, color, and material. Revolve is a great store for the selective shopper, thanks to its wide, ever-changing assortment.
Image source: revolve.com
Coplon's
Unlike other mask sellers, Coplon's has found a creative way to make their masks. Coplon's creates their masks out of vintage designer goods, such as scarves. These vintage goods originate from designer brands such as Louis Vuitton, Chanel, Dior, and more. Each mask ranges in price from $50 to $55, and can be picked up in stores or shipped for $10.
Images source: @coplons
SA Company
      The SA Company has many options for neck gaiters. They offer gaiters for kids, as well as gaiters which are multi-use or customizable, and thermal fleece face shields for cold weather. These gaiters are soft, breathable, machine washable, and stain resistant. They repel moisture and offer protection against the sun, wind, and more. These gaiters come in many different patterns and designs. They are sold individually for $19.99, or in packs, ranging from $50 to $200 depending on the size of pack purchased.  
 Images source: safishing.com
Banana Republic
      Banana Republic's gaiters are breathable and comfortable. They come in 4 colors: leopard, black, grey, and navy. Each of these gaiters is $15, and can be bought online or in-store.
Images source: bananarepublic.gap.com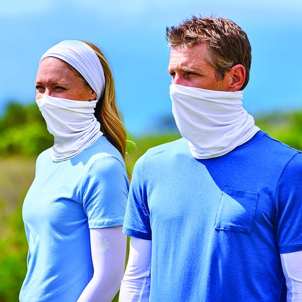 UV Skinz
UV Skinz's gaiters are certified for sun protection, waterproof, easy to care for, and breathable, due to their bamboo fabric. These gaiters come in a variety of colors and are sold individually for $18.95, $22.95, $24.95, and $28.95.
 Images source: uvskinz.com
Leave a Comment